In Their

Own Words

In advance of the launch of the WJP Rule of Law Index 2014, we asked leading global voices to share their thoughts on the importance of the rule of law and the World Justice Project's efforts to measure it.


Click the video to the right to hear from Bill Gates, Desmond Tutu, Thomas Carothers, Justice Hassan Bubacar Jallow, Beatrice Mtetwa, Beverly McLachlin, P.C., Jenny S. Martinez, and Petar Stoyanov.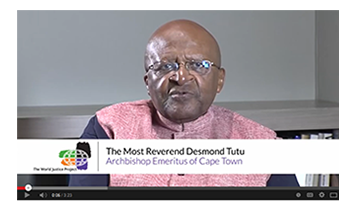 WJP Latest
We are pleased to announce that WJP's World Justice Forum V will be held in London, 6-9 July 2015, hosted...
READ MORE >
WJP Latest
When you think of "the rule of law," you probably don't picture musicians working with...
READ MORE >
While many rule of law and justice programmes focus on top-down institutional reform, the biggest challenge...
Futebol is Brazil's most popular sport, yet the women who play it have long confronted significant gender...
In the current political system our voices are represented via a proxy delegate, while at the same time the...
With rapid urbanization taking place across South Asia, countries such as Nepal face increasing difficulties in...
This post first appeared on the blog of the...
This post was co-authored by...