In Their

Own Words

In advance of the launch of the WJP Rule of Law Index 2014, we asked leading global voices to share their thoughts on the importance of the rule of law and the World Justice Project's efforts to measure it.


Click the video to the right to hear from Bill Gates, Desmond Tutu, Thomas Carothers, Justice Hassan Bubacar Jallow, Beatrice Mtetwa, Beverly McLachlin, P.C., Jenny S. Martinez, and Petar Stoyanov.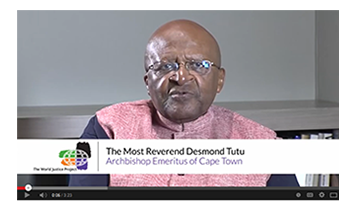 WJP Latest
Engaging with rule of law issues invariably means grappling with big ideas from multiple perspectives. Because...
READ MORE >
WJP Latest
The world is no stranger to images of private opulence paid for with public money. The sprawling private...
READ MORE >
While many rule of law and justice programmes focus on top-down institutional reform, the biggest challenge...
Futebol is Brazil's most popular sport, yet the women who play it have long confronted significant gender...
In the current political system our voices are represented via a proxy delegate, while at the same time the...
Although some Middle Eastern and North African (MENA) regional prisons like " ...
The Middle East and North Africa region is never far from the international trends headlines, but when it comes...
Just over two weeks ago, Zimbabwe's Prosecutor-General Johannes Tomana, a close ally of President Robert...